Up early so we have time to get our free breakfast at the hotel and still be in the parks early. Jeans and cardigans are the order of today as it's still pretty chilly; open the door to be faced with sheets of rain pouring down. We run to Linda & Graham's room to meet them and then onto the breakfast room. The selection is pretty good considering it's free, a few choices of cereal, oatmeal, toast and some pastries along with tea, coffee and juices. I grab some toast, juice and a doughnut and we discuss our plans. Despite the rain we're still heading for the parks, hoping the rain may actually deter some locals and it may be less crowded. After eating we nip to the gift shop en route and buy some rain ponchos before heading across the street with a small army of other multicoloured ponchos.
The original Disneyland Park opens at 8am today, California Adventure at 10am so we head to the original park first. We join an enormous queue but are through in about 10 minutes (the cameras stayed in the bags until lunch time for their safety as it was raining really badly). We emerge onto Main St, stop and burst into laughter.
"Somebody shrunk the castle in the wash!"
It really is tiny in comparison with Florida and doesn't seem to grow much as we get nearer. The plan of attack is to head straight for Adventureland so we head to Indiana Jones, only to find it's closed for the weekend, oh well. Next up is Pirates of the Caribbean which we walk straight onto, Scott reminds us to appreciate that is it will be rare this weekend. The ride is far longer than the one in Florida as we all knew, I think it's much better but Scott prefers the Florida one.
Nearby is the Haunted Mansion which is currently under its holiday overlay. Outside looks amazing with all the decorations and inside is even better. The overlay works perfectly and everything is just incredible, I wish the ride was longer so there was more to enjoy. Scott and his parents didn't know about the overlay and are equally impressed by it all, even despite Linda & Graham having never seen the movie.
Next we take a detour to Tomorrowland as the others want to ride Space Mountain. I'm not too keen on the idea so I head to Star Tours instead to check it out instead; it's exactly the same as Florida. When I come out there's no sign of the others so I go to Buzz Lightyear's Astro Blasters. This is mainly the same except the queue is different and the guns can be picked up and moved about, unlike the thumb destroyers back East. When I've finished the others are waiting, they enjoyed Space Mountain, saying it's like a slightly stepped up version of Florida, nothing like the crazy upside down Parisian version.
The queue for the new Nemo submarine voyage is already stretching all the way around the lake and is several hours long so we put it down as a lost cause and join the end of the Matterhorn queue instead. It takes about half an hour but we're soon off on our bobsled journey. I'm a bit wary of it but find myself enjoying it, although we all decide that sharing the sleds is a little too cramped. I'm the only one that noticed the water touchdown and wrapped myself in a poncho when we boarded, much to the annoyance of the others who are now somewhat damp. I point out that we queued past it and it's their own faults for not noticing!
It's just gone 10am by now so we start making our way out towards California Adventure, passing through Fantasyland en route. I spot Mr Toad's Wild Ride and it has a short queue so we head over to it first as I never got the chance in Florida. It's a typical dark ride but quite scary when it descends into hell, a bit harsh punishment for speeding really! We exit Fantasyland under the castle and head straight over to the California Adventure Park.
First things first and it's around to the Tower of Terror to grab some fastpasses for later. They have a long wait so we head to Monsters Inc, Mike & Sully to the Rescue! There's another reasonably long queue but there are plenty of notice boards, pre show 'safety' videos and other things to look at including a giant cartoonish vending machine selling yummy treats like "Primordial Ooze", "Bag O Calories" and "Sugar-Salt &Fat". The ride itself is a typical dark ride with you helping return Boo to our world, however there is an impressive effect in the factory floor with mirrors creating the impression of an enormous room filled with rows of moving doors as in the film.
We head around the park anti-clockwise, managing to just avoid the High School Musical show which will follow us from now on. Eventually we get to Paradise Pier which is honestly anything but, especially in the grey, wet and miserable day we're having.
The others want to ride California Screamin' so I take the bags and entertain myself by taking some pics of them in the queue and on the ride and by talking to the other people lined up with cameras who are too sensible to join their parties on the coaster.
By the time the gang get off the ride, slightly damper than before they rode due to the drizzle, it's time for our Tower of Terror fastpasses. I join them in the queue despite having zero intention of riding this horror show again and make a hasty exit around the back as they board their elevator of doom. We regroup at the photo viewing area where I am highly amused by their picture, even more so by the group doing Charlie's Angels on the opposite side of the elevator.
We've arranged Tower of Terror before lunch as it seemed the intelligent decision so we're very hungry by now and head to the Taste Pilot's Grill near Soarin'. We all get burgers as it's traditional in a Disney park and enjoy them very much. During the day I've noticed lots of people wearing "1st Visit" badges so I briefly excuse myself and make a quick trip to Guest Relations where I pick up 4. Whilst there I also get a birthday badge for Linda who's birthday it will be next week in Florida, this one I hide at the bottom of my bag. I get back to the restaurant and present the badges to everyone, they are thrilled and we wear them the rest of the weekend.
We make our way back to Paradise pier, taking pictures along the way.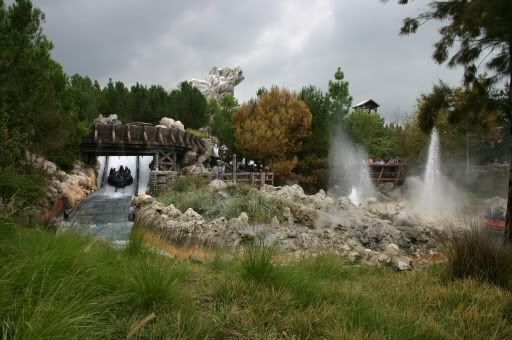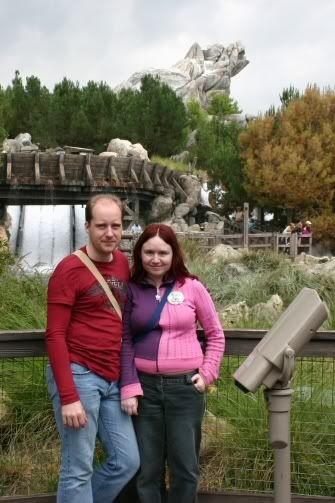 I want to try out the Orange stinger as I've heard good things from people who have been surprised how good it is.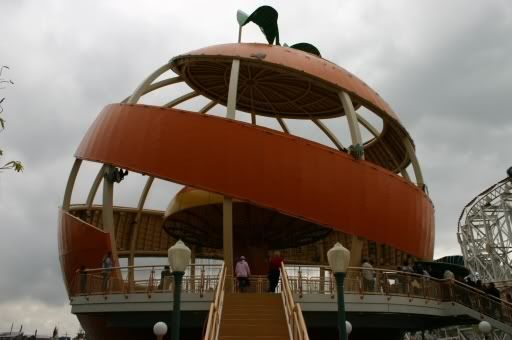 Graham joins me but the others get ill on spinning rides and opt out. The reviews were right and we both come off raving about how surprisingly good it was.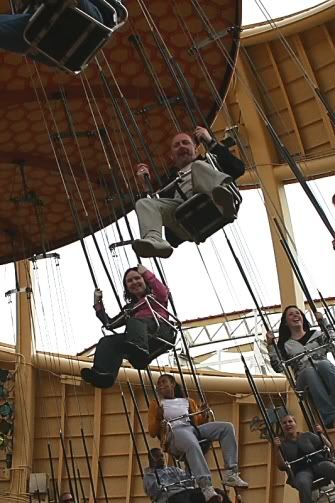 We eventually get back to the Pier and have another look around. Linda & Graham want to ride the Sun Wheel in one of the non-moving baskets so they join the queue while Scott & I opt to stay on the ground.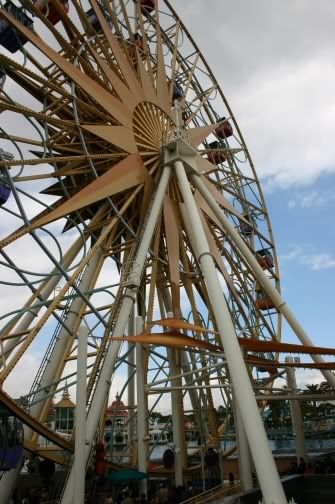 While we wait we have a look around the nearby shops and I buy a zip up jacket. Linda & Graham board the Sun Wheel and enjoy their slow trip around.
When they get down we all decide we've had enough of California Adventure and head on out. Linda & Graham decide they need a rest and opt to head back to the hotel for a while, meeting us later in Disneyland. We grab a few pics outside the California Adventure Park before heading back into Disneyland.

The entrance to the Disneyland Park is covered in Disney characters made from pumpkins and in front of the station there is a giant Mickey head made from pumpkins and flowers.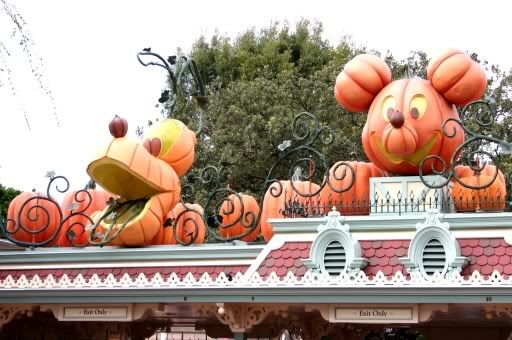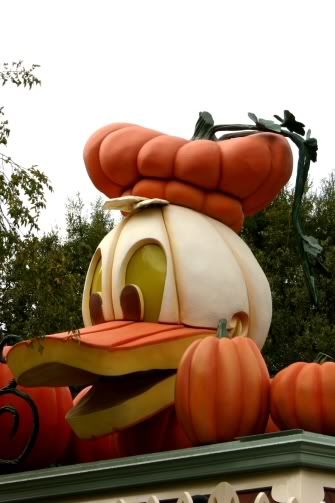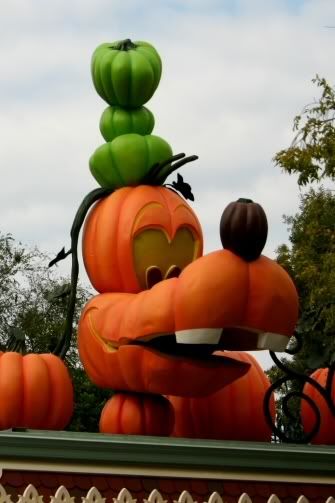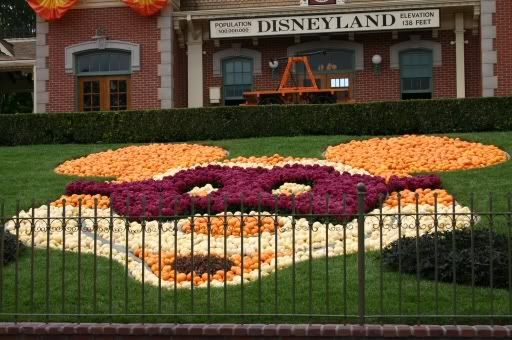 Inside the park, on Main St, the pumpkin theme continued.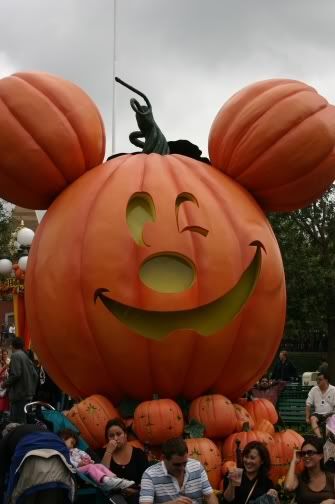 The miniature castle hadn't lost its amusing impact the 2nd time we saw it, it looked much better without the rain though.
We headed to the ice cream parlour for a snack and ate outside as the temperature was starting to increase a bit now. As we ate, the parade came past in a perfectly timed coincidence.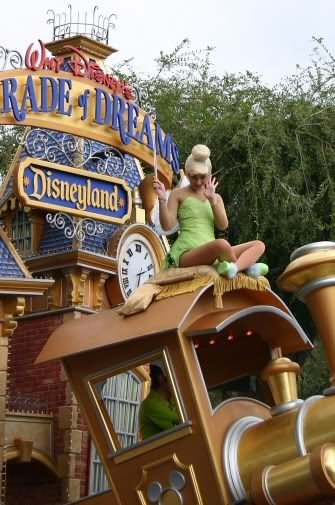 We then headed off to Frontierland for a go on Big Thunder Mountain as I knew it wasn't open in Florida during our trip. The ride felt a little longer than its Floridian cousin and the track is laid out in a perfect mirror image of that one. We then went to Fantasyland and rode on Pinocchio's Daring Journey as we were trying to do anything not found in Disneyworld. Once we finished, we walked around Fantasyland getting some pictures of other rides.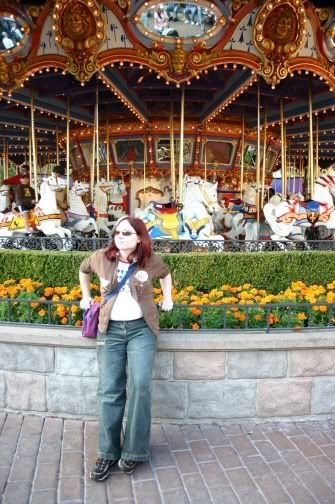 We just had time to do one more ride before meeting up with Linda & Graham again so we joined the queue for the Storybook Land Canal Boats and had a quick ride. This is a simple boat ride around an outdoor canal surrounded by miniature buildings from various fairytales and Disney movies. However many ducks were sleeping on the banks which kind of ruined the sense of scale slightly!
Also going around the canal was the Casey Jr Circus Train which we have ridden at Disneyland Paris.
We met back up with Linda & Graham and took a good look around the castle area, discovering a beautiful wishing well with sculptures of Snow White & the 7 Dwarfs and the song "I'm Wishing" playing in the air. Also nearby was a tiny little sculpture of the bluebird of happiness which could so easily be overlooked.
As the sun sets, we head to Toontown, getting some pictures of the castle en route as it takes on a magical golden hour glow.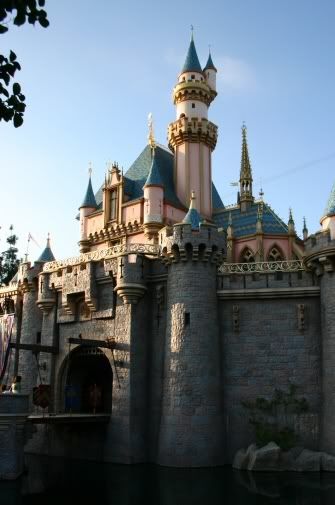 Toontown is one of the few areas at Disneyland which is astoundingly better and larger than its Disneyworld counterpart. It is enormous, filled with characters houses, shops and several rides. We were mostly interested in Roger Rabbit's Car Toon Spin but as it had a 50 minute queue, we opted to take some shots before the day faded, before joining the line.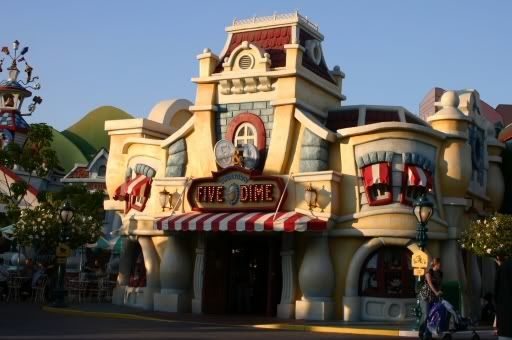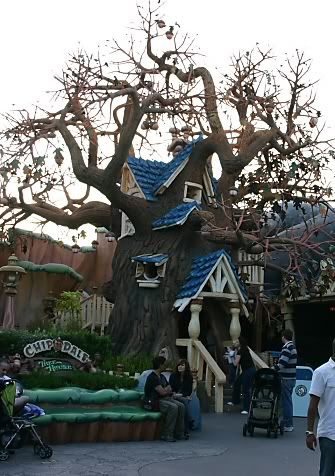 We join the line for Roger Rabbit which is pretty much 50 minutes as given on the sign. The ride is good but not spectacular. When we exit, we head for Tomorrowland. The parade is on so we make a short about turn and use the Train for the trip instead. Once at Tomorrowland we head for Buzz Lightyear as it has a short queue.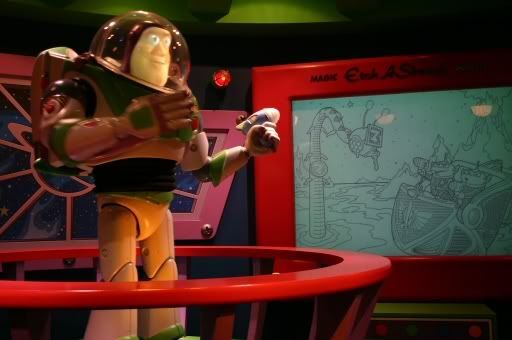 Once we've ridden we split up for a while. Scott & I are hungry and, after a short search of Tomorrowland eateries which are all heaving, we head for Frontierland and the Golden Horseshoe saloon. The queue is short but, due to inefficient staff, takes ages to progress through. Eventually Scott gets served and we share a portion of mozzarella sticks and fries which are so enormous that we can't finish them. During our meal we are sat by one of those magic pianos that can play itself and are amused by the constant stream of children standing, entranced by it.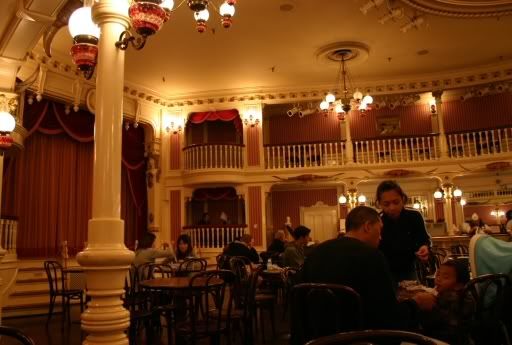 We meet back up with Linda & Graham and check out the shops on Main St. There's still quite some time before the fireworks so we take a circuit tour of the park on the train, taking in the famous Grand Canyon & Primeval World dioramas on our journey. It takes longer than we expected and as a result we only just make it back to Main St station before they begin.
"Remember… Dreams Come True" is by far the best fireworks show I've ever seen at a Disney park. The show is narrated by Julie Andrews, as herself, and for the first half tells the story of the creation of the park. The second half is clips from the attraction audio of many rides from the park, including Haunted Mansion, Pirates of the Caribbean, The Enchanted Tiki Room, Splash Mountain & many more. As a Star Wars fan, nothing will beat the impression of hearing the Star Wars theme music blare out across Main St followed by the sounds of X-Wings & Tie Fighters soaring just out of sight above you as lasers and fireworks go off all around the park!
After the fireworks, the others head back to the hotel but I wait and catch the train over to New Orleans Square to have a look around.
Fantasmic's second show is just starting so I see part of it through the trees. Despite the late hour, the queues are still enormous so I head out. I nip to Downtown Disney to pick up the book I saw yesterday before walking back to the hotel. I barely make it as my feet now feel as if they are exploding with every step. I collapse in the room and literally peel my socks off as my feet are bright red and swollen. Tomorrow is going to be fun…