How is it that every year when we fly out on holiday, I'm sick the first night? Yeah well it's happened again so this morning I'm feeling pretty darned rough, so we have a bit of a lie in to help me and help the others combat the jetlag. No real time for that though as it's my birthday today and there's lots to do. I've brought all my cards over from the UK as they're easy to carry so I start opening them and, as I'm nearing the end, Linda & Graham knock on the door with theirs. All together I get $120 in cash to spend on whatever so I'm now on the lookout for some birthday gifts. We haven't made any firm plans for the Vegas days so we have a quick discussion and opt to head for the Star Trek Experience at the Las Vegas Hilton first as it's one of the only things I know about in Vegas.
Travelling around Vegas requires more time and effort than you realise at first. The best way to the Hilton is to take the monorail so we head out of the Stratosphere to walk the half mile to the Sahara where there's a station. Looking back down the road we get our first real look at the Stratosphere.
The Sahara is one of several casinos in Vegas that have a rollercoaster. This one is a relatively short one that does a loop, gets to the end and then comes back the other way so you get a backwards and forwards loop. We watched the coaster as we walked past the Sahara and got a few pictures before heading inside and up to the monorail station.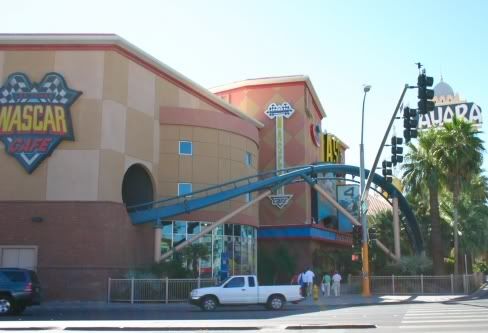 The monorail runs most of the length of the strip along the backs of the casinos. As we know we are planning on going all the way to the other end after we're done at the Hilton, we buy day passes and jump on board. The Hilton is the next stop so we're only on board for a few minutes.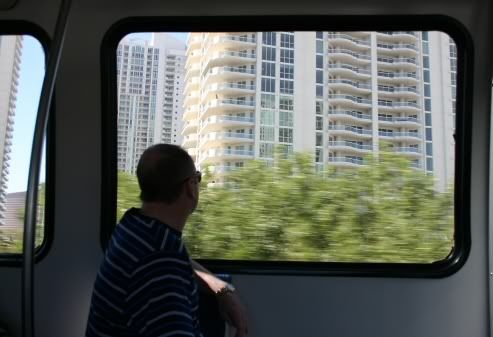 On arrival at the Hilton we are a little early so we stroll around the gaming floor, being amused to see a Star Wars slots game right by the entrance to the Star Trek experience, bet that attracts some negativity! Soon the doors are opened and we buy our passes.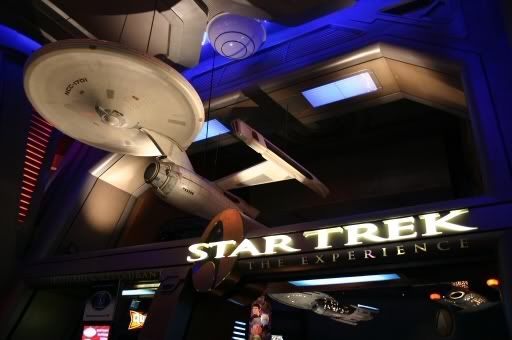 The queue is an attraction in itself, all along there is props and boards forming a timeline of the Star Trek universe; it has been updated recently to include the latest Enterprise TV show. We spend a good half hour slowly making our way along until we get to the main area where we have to pick which ride we will do first. We opt to do the original Klingon Encounter first. On this you find yourselves on board Jean Luc Picard's Enterprise for a quick show and then are taken into a shuttle where you experience a motion control ride. It's very impressive, especially the way you get to the Enterprise which I won't ruin for anyone who hasn't done it yet.
We're not hungry yet so we loop back around to do the 2nd ride, Borg Invasion 4D. This is much more recent and so the technology involved is far more advanced. Sadly some bits are hard to follow as to start with you are in a group being led down corridors and it can be hard to spot things happening behind you or off down the side corridors. The main attraction happens in a larger shuttle which is a cinema type room similar to many in Orlando. As this is a 4D attraction, there are many things going on in the theatre and so the attraction was pretty intense and scary to say the least.
By the time we are done we're all feeling a bit hungry. We had originally planned to get a drink at Quark's Bar but I suggest we sit down and have lunch there which the others are keen on doing. We have an excellent waiter who advises us on the menu and drinks. It's time for my first ever alcoholic drink in the USA. Linda & I share an odd concoction called a Borg Sphere.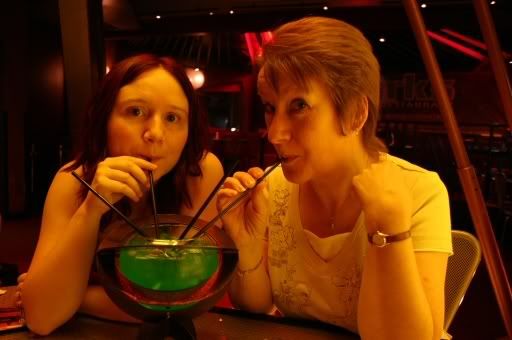 We actually share the small one but that's enough as it alone contains 5oz of liquor – more than enough at lunchtime! It contains gin, rum, vodka, melon liquor, sour mix and sprite. Needless to say we were a little Bambi-ish when we tried to walk out later on! Graham gets a Romulan Ale but Scott sticks to the coke so we push him to try some of our sphere which he practically chokes after!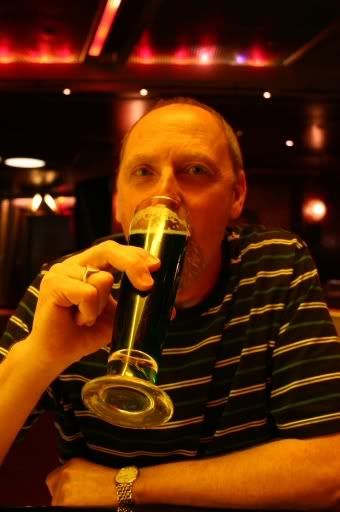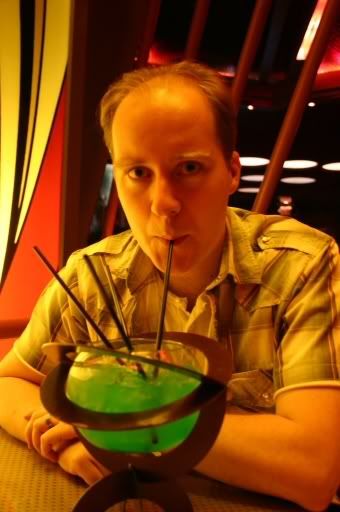 The food in Quark's all has unusual names as well as the drinks. Scott gets a Grilled chicken Kahn, I get a bacon & cheese hamborger, Linda gets a Kahless (salad) and Graham orders Trip Tucker's Warp 5 Prime Rib Chilli & Chips (chilli with tortilla chips.) It's worth noting that the chilli dish was actually a starter!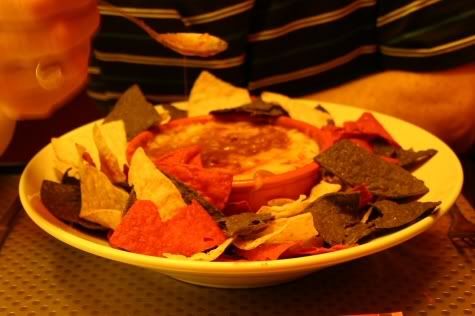 Whilst we are eating, a local Klingon is prowling the bar with a TV crew following him. Eventually he joins us at our table and asks if we want to hear a joke which we accept.
Klingon: How do you stop a Ferengi from drowning?
Graham: Take your foot off his head?
Klingon: (Standing up quickly) What are you some kind of telepath? GET OUT OF MY HEAD!!!
As the Klingon storms off in a mock paddy, most of the bar is staring our way and grinning. Thank goodness Graham resisted asking the question his friend did a few years ago: "Are there any gay Klingons?" "Not alive". As we finish up our meals the Klingon is back filming a TV spot for the restaurant at another table with all sorts of highly odd looking food in front of him. Then he joins a whole host of other aliens and Starfleet officers over at the bar to be served by the Ferengi bartender, we must have timed our meal great to see all this.
Eventually we leave Quark's and board the monorail again, this time to go all the way to the far end of the Strip as Linda & Graham need to visit the Luxor to arrange a bottle of champagne to be delivered for a friend a few weeks later. We walk through the MGM Grand and Excalibur on our way to the Luxor but don't stop to look around. Once we arrive, Scott & I split off to look around the shops while his parents go to concierge. Luxor is themed to Ancient Egypt so I grab a souvenir for my best friend as she is training to be an Egyptologist. Soon we are back on the monorail heading all the way back to our hotel. We have dinner scheduled at the Rio at 7.30pm.
When we arrive back none of us are feeling too well so we opt to take naps. Time rolls on and we realise we'll never make it to the Rio as we're all tired and I'm feeling ill again. Scott calls to cancel the reservation I made a few weeks ago but checks with the manager and gets us a rescheduled dinner at 9.30pm. That gives us enough time to recuperate before changing into our best and meeting up again. I bought a special dress for this night which I almost chicken out of wearing due to the plunging neckline but this is Vegas after all! We hop in a taxi and enjoy the 20minute ride to the Rio.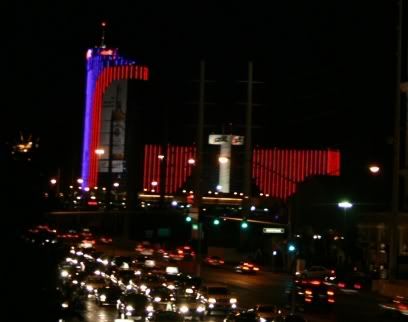 The restaurant is on the 50th floor and you need permission to board a special lift to reach it. Our names are crossed off and we board, as it shoots up we realise that a) it's made of glass and b) it's on the outside of the building. Scott & I both spin around to face the door and keep our eyes firmly shut until we're at the top. We're a bit early so we have a drink at the bar, with me for now sticking with water. We're seated within half an hour, much to Scott's relief away from the windows which offer a view of the entire Strip due to the Rio being slightly off and to the side.
The Voodoo Steakhouse is one of the best in Vegas and boy could you taste it! The steaks were amazing, the only disappointment being that they mixed up mine and Scott's orders so his steak was undercooked and mine overcooked, never mind. The wine list was also a sight to behold. I really fancied a good drink and ended up ordering an $18 glass of champagne along with Graham, well how many times in life do you turn 21 in Vegas? It was worth the money and then some. I was the only one to order dessert and got the molten chocolate cake which was also delicious.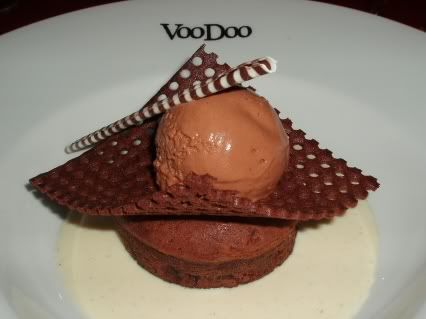 After finishing up we decided to check out the nightclub on the roof (except Scott who was quite high enough already thank you.) This is literally on the roof with just little metal railings between you and a 51 storey plunge to the street below.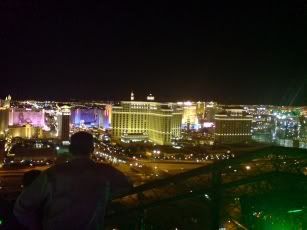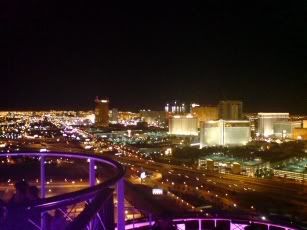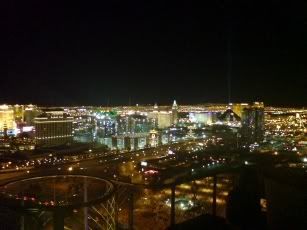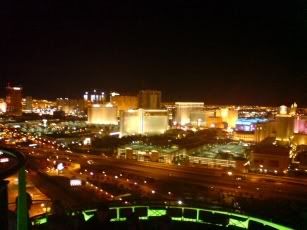 The view was spectacular but we didn't hang about too long, rejoining Scott below and catching a thankfully different lift back down to the ground. It was past midnight by now so we caught a taxi back to the Stratosphere. We got changed and came down to play on the 1 cent poker machines for a bit. I got bored pretty quickly and after I had lost my dollar, Scott and I went up to bed.