Today we decide to have yet another lie in. We've planned to split off from Linda & Graham as they're rushing about too much for us. By the time we get up it's a bit late for breakfast so we decide to get brunch instead. I'd spotted a Denny's near our hotel so we head down there. I get a starter of mozzarella sticks and a side of fries which stills ends up being more than I can eat, Scott gets a chicken sandwich and fries. It's quite harrowing seeing the obviously struggling wait staff so close to these billion dollar casinos and we end up tipping more than normal as a result.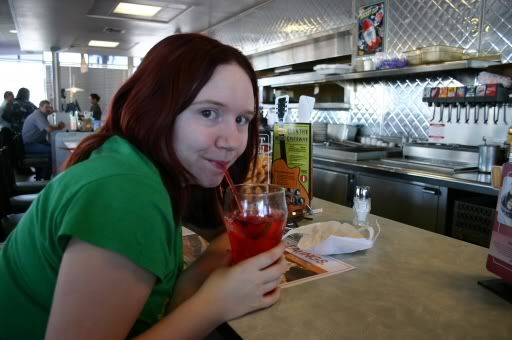 We walk to the Sahara and catch the monorail to Paris where we spend some time looking around the shops and patisseries which are full of stunning desserts which are works of art in themselves.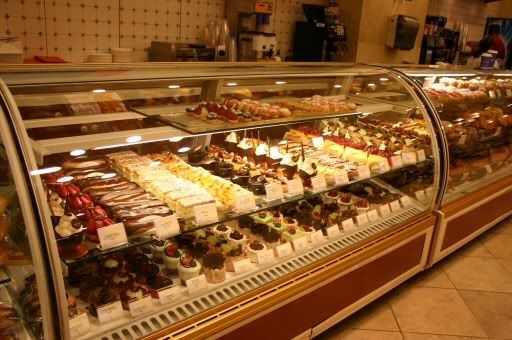 We head outside to have a look around the Arc de Triomphe (1 third scale) and the Eiffel Tower (half scale) before walking down the Strip to the Flamingo.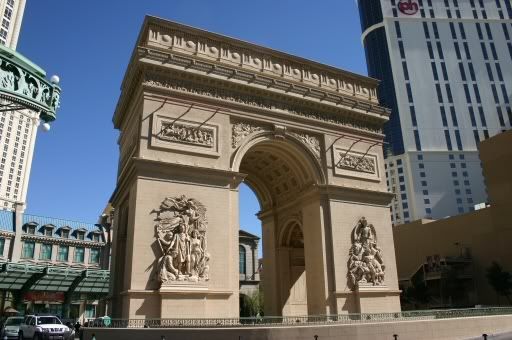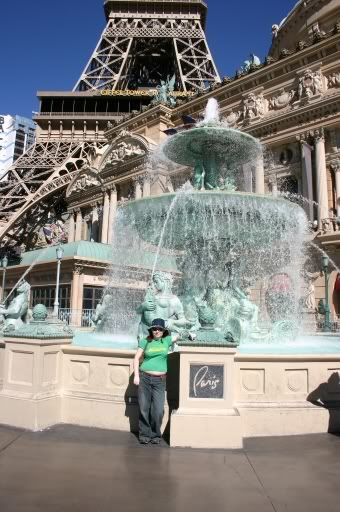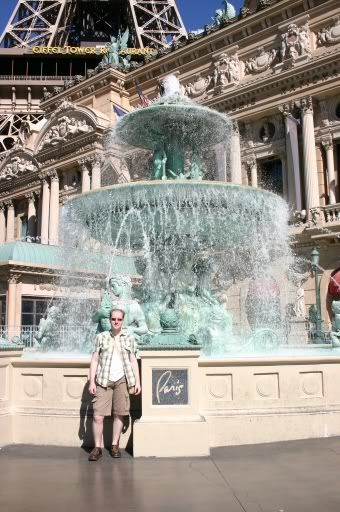 This casino has an outdoor flamingo habitat and also has areas with parrots, peacocks and other exotic birds.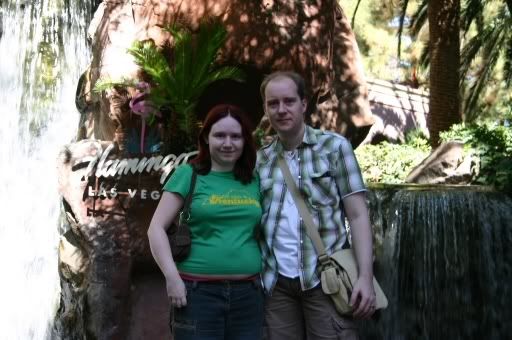 Next up is Caesar's Palace, one of the largest casinos in Las Vegas.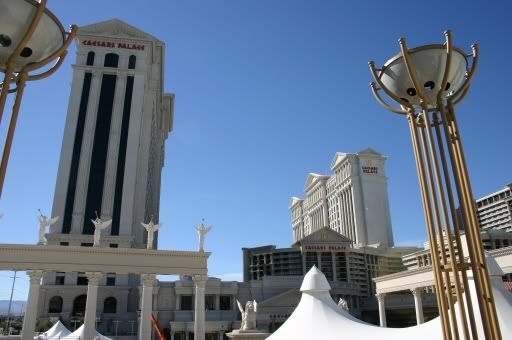 We spend a bit of time on the slots and I put another whole dollar in, but get it back after having a few good runs of luck. We sit at the bar and get some drinks before walking into the Forum shops for a few hours. This is an entire full sized mall containing all kinds of shops from Gucci to F.A.O Schwarz and many restaurants too.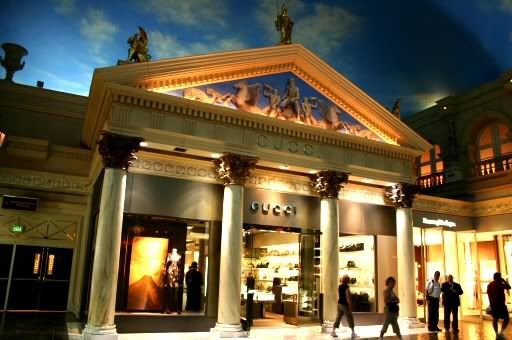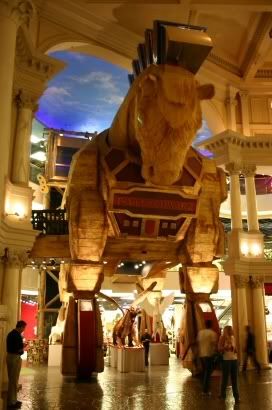 We stop by an ice cream stall and end up buying a large tub which costs us $16, and that wasn't even the biggest – oops!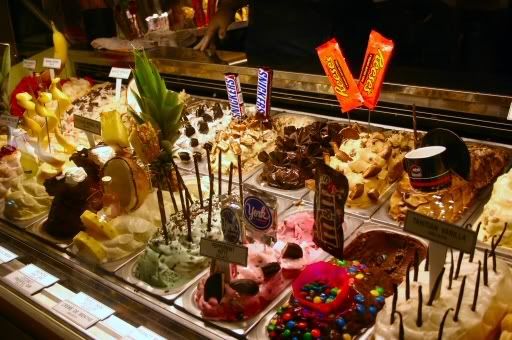 We also manage to watch one of the audio animatronic fountains perform its show, slightly ruined by the neon Cheesecake Factory sign behind it. We used a different exit onto the Strip and came across one of Caesars most unique features, curving escalators! We spent time watching them whilst sitting down for a short break.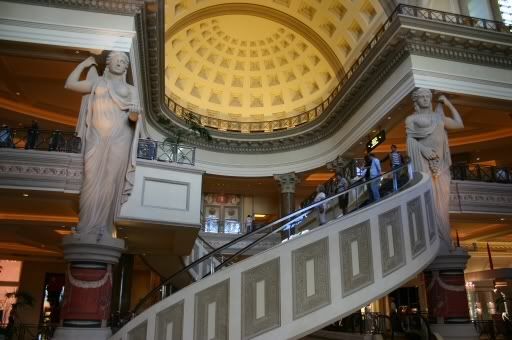 Outside was a beautiful fountain which we grabbed some pictures of before trekking back to the monorail.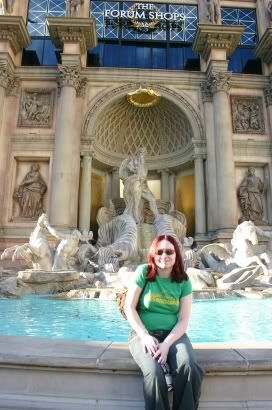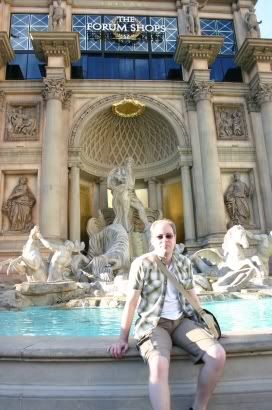 We had agreed to meet up with Linda & Graham for dinner before going out but when we got back to the room they had left a message saying they'd overeaten at lunch and weren't up for food now. We called them and arranged to meet up after we'd eaten at the buffet downstairs so we headed back down for dinner.
After eating we met up and got a taxi to Fremont St, a street entirely roofed by one enormous video screen.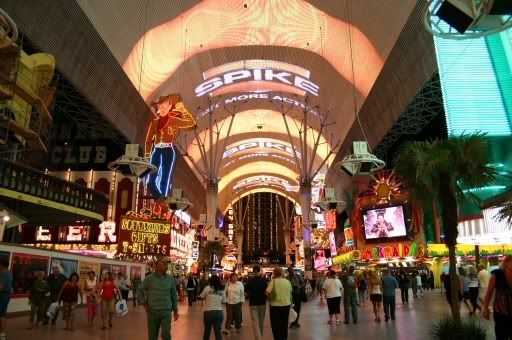 During our visit there's a turkey eating contest going on that's drawn an enormous crowd and is being broadcast on the local radio. It sounds disgusting over the tannoy as people race to eat entire turkeys in a couple of minutes. We do our best to ignore that area and walk down the street checking out the casinos and other attractions. At one end of the street are two casinos that none of us have ever been in, the Plaza and Main St Station (hang on, I thought I was in Las Vegas, not the Magic Kingdom?!?!) so we check those out before heading back to Fremont St.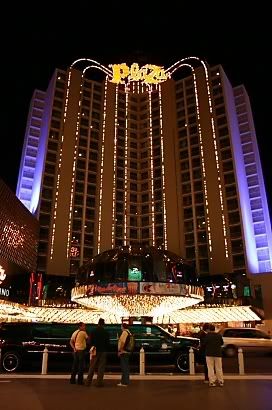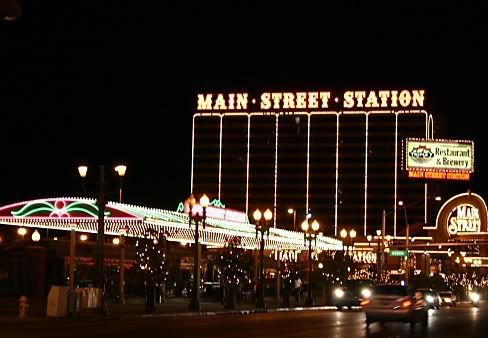 We get an exceptional view from the other side of the road and get some pics before crossing back over.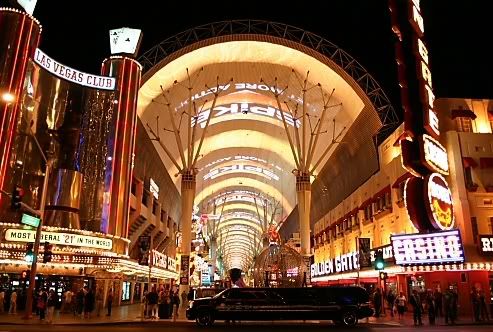 We've just missed a show so we head to a small casino for a drink. These casinos are more of the old style from Elvis's time and as such are much smaller and gambling driven as opposed to the big Strip resorts which include theme parks, shops and hotels as well as the machines. We step back outside to see the show. Every half hour the video screens overhead show a short but spectacular film, the one we caught was about flight and had planes soaring along the street and the space shuttle taking off. The casinos all turn their lights off during the show so it's very impressive.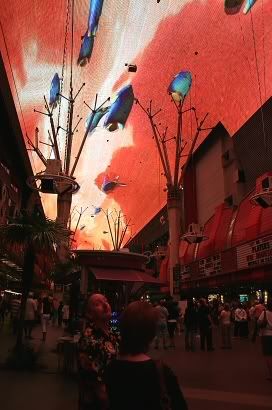 Once the show was over we split up as I wanted to nip to the Walgreen's nearby as the desert heat and dryness was cracking lips terribly by now. On our way back we saw the end of a second light show, this one seemed to be about music judging by the guitars.
Once we met back up with Linda & Graham we decided we'd seen what we wanted to at Fremont St. It was still early so we got a taxi to the Venetian.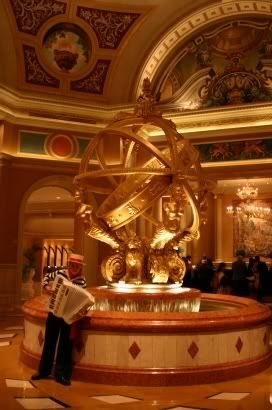 We looked around the shops again and watched the gondolas sailing past.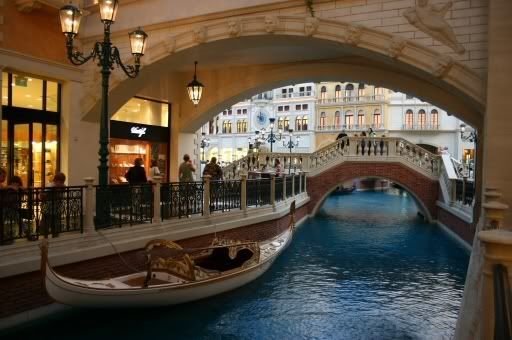 I grabbed a bite to eat in the food court and followed it with some raspberry sorbet from St Mark's Square.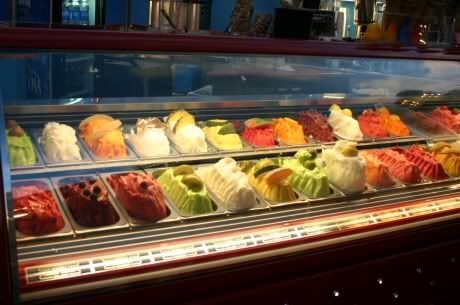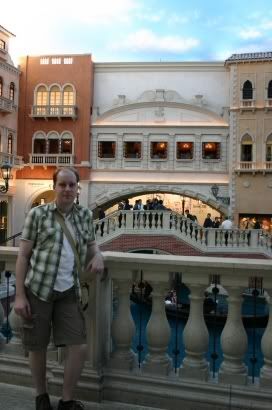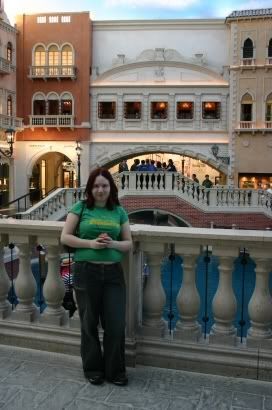 We go outside and watch the outdoor gondoliers and all the activity on the Strip before heading back to the taxis and heading back to the Stratosphere.