Today we leave for our drive across to Anaheim so we're up early to get a good breakfast at the diner downstairs. We all eat a bit more than normal as we don't know what to expect from the desert road. Once we're done we head upstairs to do the last few bits of packing before grouping together again downstairs to check out. We've filled in our fast check out forms during breakfast so we're done quickly and we shift all our bags (we're now at 10 for the group) outside to the pick up/drop off zone. The guys have to pick up the hire car from the Sahara and leave us to guard the bags. We need water for the trip so after a few minutes I head inside to buy each of us a massive bottle and a couple of souvenirs that catch my eye. A few minutes after I get back, the guys turn up in an enormous red Chrysler Town & Country. We quickly load the luggage, and ourselves, on board, take one last look at the Stratosphere and head for the desert.
As we're stuck at traffic lights on the way out of Las Vegas we notice a young lady posing very provocatively on the sidewalk for a photographer. She's attracting quite a bit of attention from the cars around us and soon enough Graham joins in, winding Linda up by egging the girl on! We're on the highway in minutes and heading west. The signs bid us farewell and soon we're out of the suburbs and heading into some stunning scenery.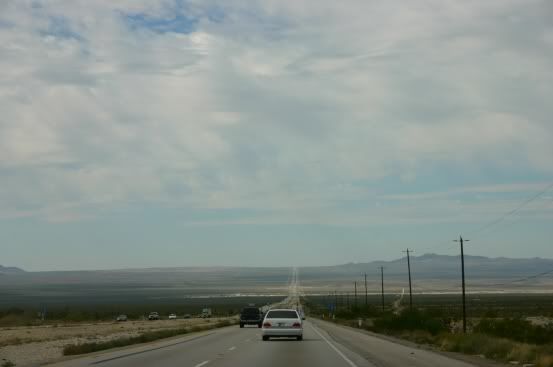 The sense of scale is amazing; the horizon above is 10 miles away so it gets repetitive quickly, but that doesn't stop it being pretty awe inspiring. Pretty soon we cross the state border into California but the scenery stays basically the same. After an hour or so, we pass through the town of Baker, famous for the World's Largest Thermometer which I'm happy to get a shot of from the freeway as we race past.
Just past Baker is the internet famous Zzyzx Rd which keeps us entertained for a minute or so.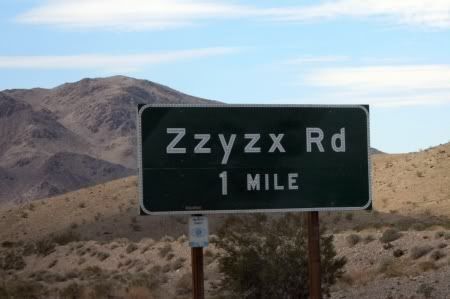 Halfway through the trip we stop at a rest stop which comprises a small parking area and a concrete toilet block – nothing else.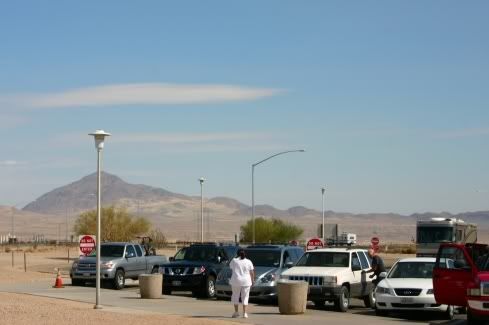 There we are greeted by a rather worrying sign.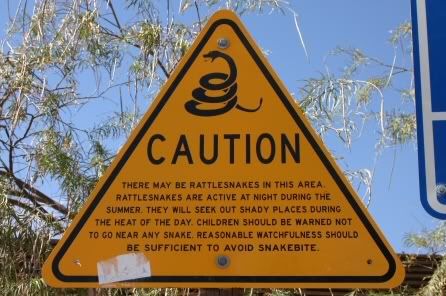 Regardless, mum has asked for a photo of me in the desert so we locate a convenient sand dune and run up it for a few pictures.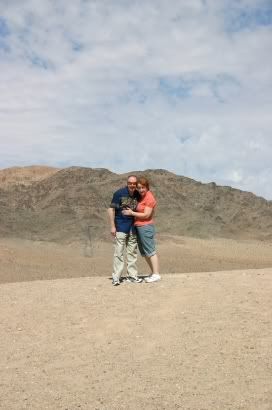 The heat is scorching so we're soon running back down again for the air conditioned comfort of the car and heading back to the open road.
A while later we're starting to get hungry when we come across a reasonably large city called Barstow. There are exit signs listing restaurants so we pull off and head into the town centre on the hunt for Dennys. The main road through the city is actually the historic Route 66, as we are constantly reminded by signs. We find Dennys and get lunch, mozzarella sticks and fries for Scott & me, salad for Linda & meatloaf for Graham. The place is decorated for Halloween and is plainly a local's diner in a small town; we feel very out of place and get a few odd looks down to our accents – bet they don't get many Brits venturing in here. At one point a crazy old man comes in and starts talking to us, he's obviously a regular as no one pays him any real attention despite the horns he's attached to his forehead. We make a hasty exit, grabbing a few shots of Barstow and Route 66 on out way back to the highway.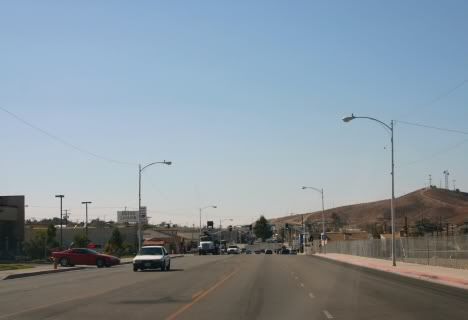 We're soon on the last leg of the journey and the scenery is very dramatic as the Satnav guides us into Anaheim.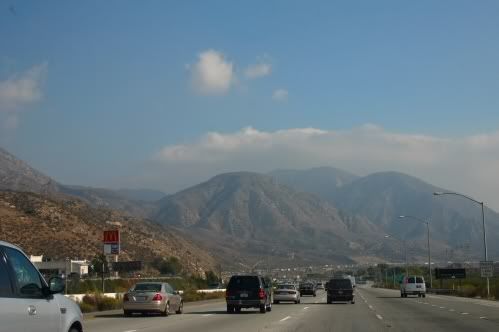 At this point things go a little haywire as the zip code we were given for the hotel was wrong. I hastily reprogram for Disneyland but the location for that is also slightly off. Oddly there are no signs anywhere for the park which initially has us slightly panicked but we realise we must be nearby. Eventually, after turning around, we spot the single sign for Disneyland, an unassuming "Disneyland – next 3 exits". We opt for the middle one and pull off to a T-junction which gives no indication of whether to go left or right. We take a chance on left and realise we're heading into suburbs so we turn around in a supermarket car park. The first thing that tells us we're close is when I notice we're going past the Tower of Terror! I've looked up pictures of our hotel, the Park Vue Inn, so I can spot it and, within seconds I see it on the other side of the road – literally opposite the main entrance for Disneyland Resort! After a minute or two of tricky manoeuvring, Scott gets us into the car park and we all breathe a sigh of relief, we've made it to California!
We get checked in and have a rest for an hour or so, checking out the rooms. They are simple but have lovely hard wood double and bunk beds along with a decent en suite bathroom. They are also the only hotel rooms I've ever stayed in where the guest folder contains instructions on what to do in case of earthquakes. After resting a while we meet up and walk across the road to Downtown Disney.
It takes about 5 minutes to walk there, passing the entrances to both parks. That night is one of the Halloween events so there are hundreds of people swarming to the entrances, many in costume. We walk to the far end of Downtown where there is a bookshop and sandwich shop. Scott finds a book he wants and I spot one too. Next stop is the Pin Station where Disney takes plenty of our money. The Lego store has one of the giant Millennium Falcon kits made up so we check it out and debate ways of getting one back to England but then realise we'd have nowhere to put it anyway!
We check out a few more shops on our way to the big one, World of Disney. I have a discount coupon from the Birnbaum guide book so we decide to combine all our purchases for maximum discount. We also decide that, as we have an internal flight before we even make it to Orlando, we'll only buy Disneyland specific items in this store. Despite this, even after the coupon is applied we still spend over $105. My favourite purchase is a mini Haunted Mansion snow globe with the Hitchhiking Ghosts in the globe part and small black bats instead of snow. Even better, it has a button on the base which makes it play the entire Grim Grinning Ghosts tune – fantastic!!!
By now we're hungry for a snack. There's nowhere catching our attention in Disney so we head back to the hotel area where there are some gift shops and take away joints. Scott goes to Quizno's Sub and gets a foul looking chicken and cheese melt. Linda, Graham and I visit a nearby shop where they get pre-made sandwiches and I get frozen strawberry lemonade as I'm not really that hungry. We reconvene in Linda & Graham's room to eat and discuss the plans for the next day. According to the DIS, this is a crowd intensive weekend so we're getting up stupidly early to get our free breakfast and be at the gates near opening time. We finish eating, say our goodnights and head off to separate rooms. I'm about to jump in the shower when there are a series of loud explosions outside. We open the door and realise it is the fireworks over Sleeping Beauty castle going off. Half the hotel guests join us and soon there are dozens of people enjoying the show.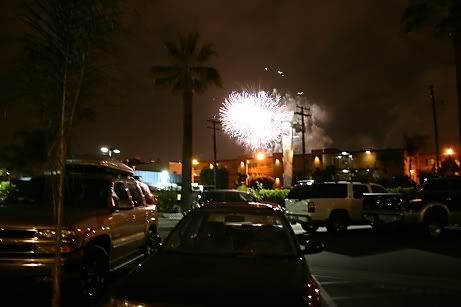 When it finishes, we get showered and get the lights out ready for a long day tomorrow.