Today is our last day in Las Vegas and we have lots to get around and see so it's up reasonably early. We're having another day separate from Linda & Graham but meet them for breakfast at the diner downstairs and agree to meet at the Bellagio for dinner at 7pm. Several of the casinos I want to visit are at the other end of the Strip so we all head to the monorail and ride it to the MGM Grand where we say goodbye to Scott's parents. The lions aren't in their enclosure yet so we head past and look around the casino which is a whopper, even by Vegas standards.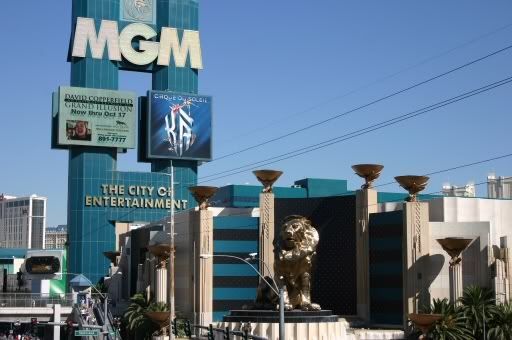 Next we head for the Luxor but take a leisurely stroll through Excalibur first. This one is themed to King Arthur, Robin Hood and other British middle ages type things done in a very Monty Python type way.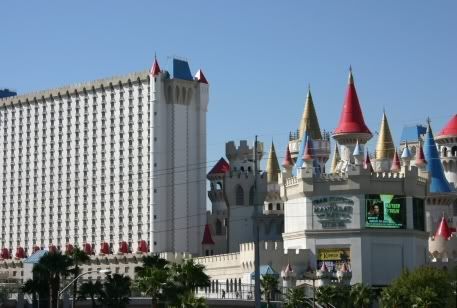 It's not one of the best casinos in Vegas but cute in a silly, more kid-friendly type way. We catch the tram over to the Luxor and have a better look around.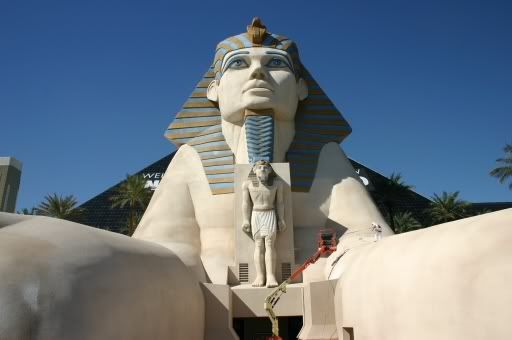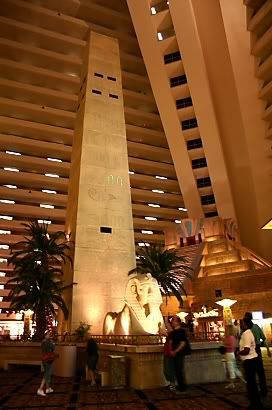 There isn't much to see other than the gaming floors, just a few shops, IMAX theatre and food court but we like the architecture anyway.
We head over to New York, New York next, by far one of the most elaborately themed casinos on the outside and has an enormously high and fast rollercoaster racing around its exterior.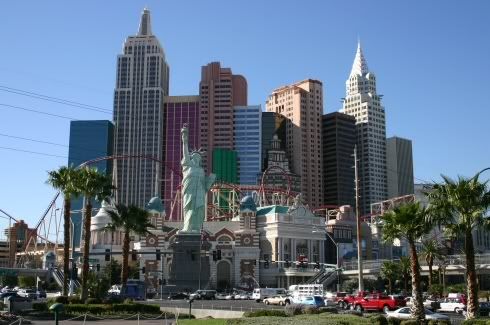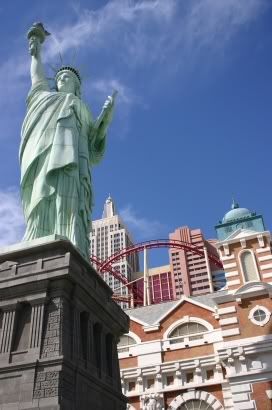 Inside, the main gaming area is in the centre - designed to appear as if it is in central park. All around are shops and eateries. We go to one shop and both end up buying tops as it's very reasonably priced. Once we're spent up we go downstairs to the main floor and look around the eateries. One pizza place catches my eye and nose as it smells fantastic! We share a slice of sausage pizza which is the best pizza I've ever had. We sit to eat in a quiet corner, except for the coaster loading platform directly above us.
Once we're done we head outside to walk along the Strip in the blazing heat (fools!). We take some pictures of the fountain outside the Monte Carlo and as we walk down the path toward the Bellagio hear voices calling our names.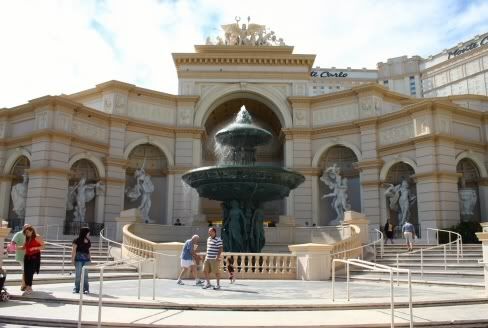 Linda & Graham are behind us, they've just been to the Monte Carlo themselves. We were all heading towards Paris and so walk down together, stopping to watch the construction happening near the Bellagio. In Paris we head to a patisserie and treat ourselves to some of the amazing desserts but only Graham manages to finish his. They may only be tiny but they are just so rich it's unbelievable.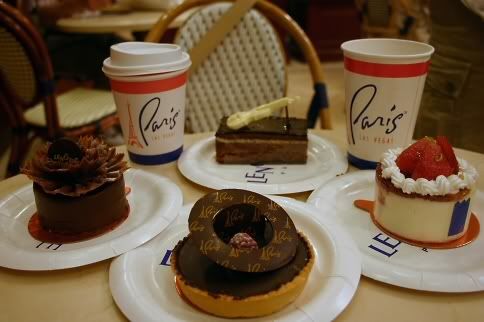 After splitting up again, Scott & I head to the Miracle Mile shops, part of the Planet Hollywood casino. Inside we find a Thomas Kinkade shop. My mum has specifically asked me to bring her back something of his so I find a nice tote bag and buy it for her. A few doors down is a shop called Hilo Hatties which I know means something in the dark recesses of my brain. We go inside and I spot why it means something. Last year Linda asked us to look for a branch in Orlando as it sells a specific moisturiser she loves, but none of the malls we visited had one so we came home empty handed. Neither of us can remember which bottle it was so we make a mental note to tell her when we meet up.
The last casino I want to visit is Wynn as we rushed through it on the first night. We catch the monorail to the convention centre and wait there for the free Wynn shuttle which takes us to the casino. It takes a good half hour or more, it would have been fast to walk. The Wynn is an amazing place, very stylish but less intense and in-your-face than the Venetian or Caesars.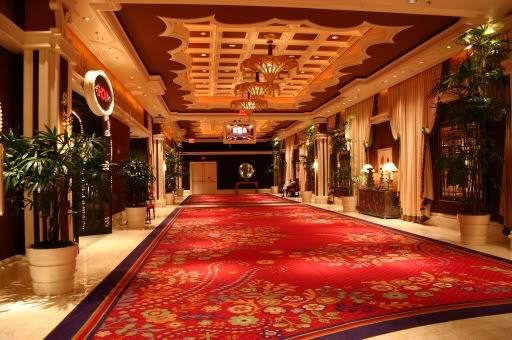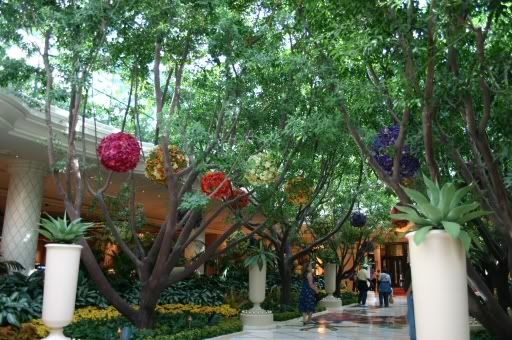 It too is filled with beautiful décor and expensive shops, we also note that the high roller rooms are entertaining more guests here than in some of the others. My favourite shop was Chocolat which has two amazing sculptures on show.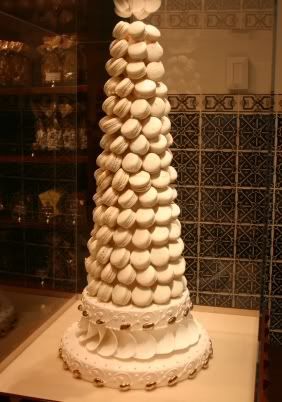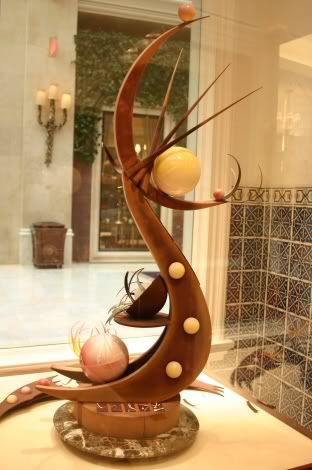 After doing lots of exploring we head out of the front entrance as we have decided to walk back to the Bellagio rather than using the transportation. We walk down past the construction site for the Palazzo, the new wing being constructed on the Venetian which will make it the largest resort in the world. The Bellagio's lake is still and calm when we reach it with little sign of the fountains which will erupt later. We are staying nearby so we can see them perform.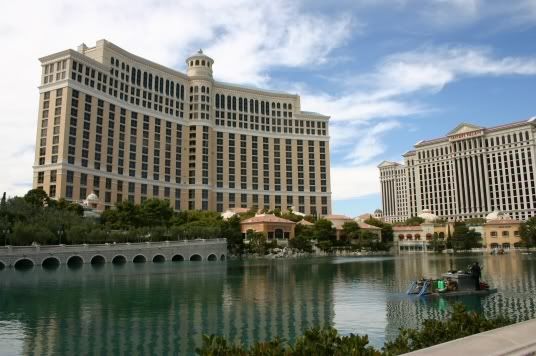 We enter through Caesars Place and do a bit of shopping at a stall in the Forum Shops, Scott gets a watch and I get a wrap and handbag. We then follow the walkway to the Bellagio and spot all the glass leaves hanging in the shopping areas. In the lobby we spot Linda & Graham who don't fancy a big meal after all so they are heading back to our hotel. I tell Linda about the Hilo Hatties store across the street and she decides to head their en route (which gets me a sarcastic "thanks for that" from Graham.) We say goodbye and have a look around the lobby, admiring the amazing Italian glass ceiling and beautiful autumnal display behind the check in desks.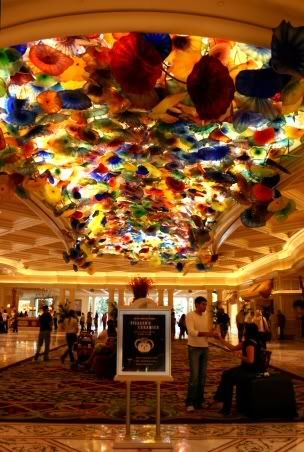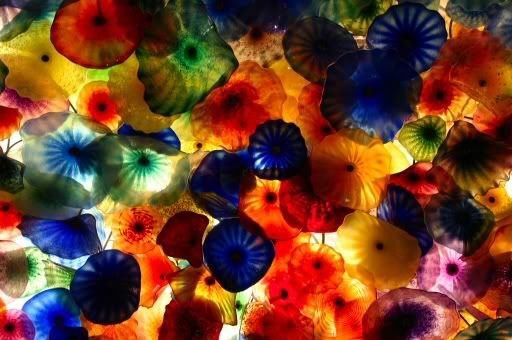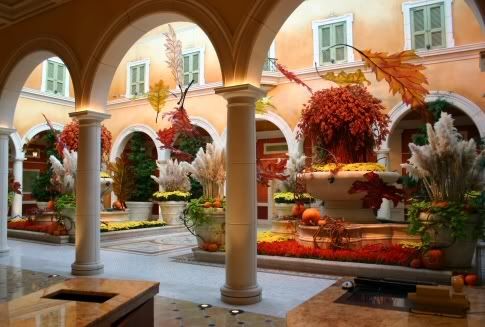 We're not quite hungry yet so we go and have a look around the Botanical Garden in the Bellagio. It has a stunning autumn display on including hundred of apples, pumpkins and brightly coloured flowers.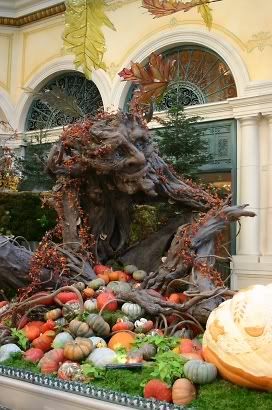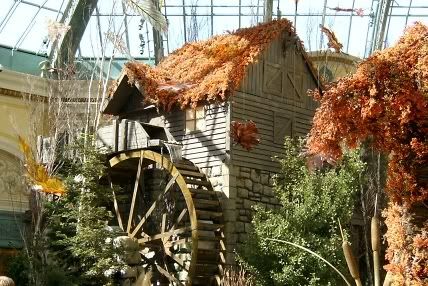 As we are looking around, we see two just married couples come in to have their photos done, what a beautiful place for those pics. Just near the gardens is the World's Largest Chocolate Fountain which has drawn a small crowd.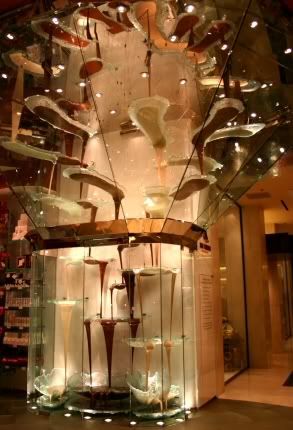 It really is enormous and makes us both feel hungry so we leave the Bellagio and head back to the Forum shops at Caesars to find somewhere to eat dinner. We settle for Planet Hollywood where we order breadsticks and two New York Strip steaks which are all very good. This is the third branch of Planet Hollywood I've visited – the others being in Orlando and New York.
After we have finished eating we walk back through the Bellagio to watch the fountains. They are just finishing performing a show to "Con te Partiro" when we get outside which is a shame as it's one of my favourite songs and it won't be played twice in a row. By the time we have walked around to the front, we just have time to snap some pics before the next show begins. This time the music is "Singin' in The Rain", slightly ironic perhaps in the middle of the desert.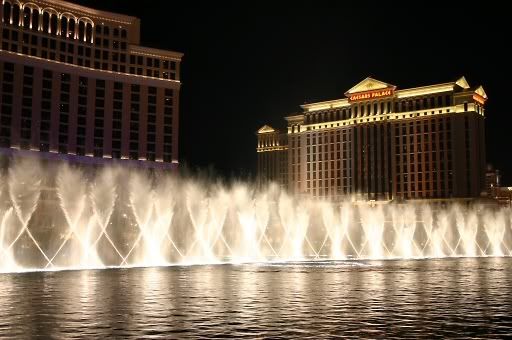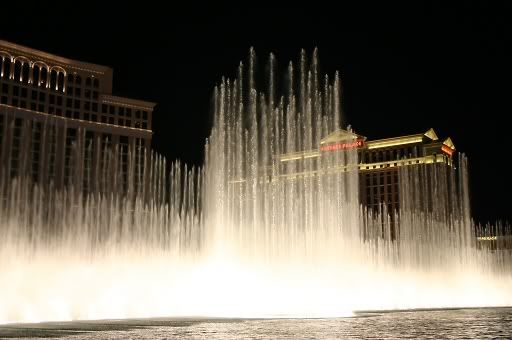 After the show we make our way back to the monorail, taking pictures along the route. We walk the short distance from the Sahara to the Stratosphere, taking one last look at it all lit up before heading inside. We find Linda & Graham at their favourite 1c poker machine and join them. I up the ante and put in $5, playing 5c hands instead of the basic 1c as it gives a bigger return. The most I win on a single hand is about $2.15 which is still pretty good! The waitress comes around and gets us all some free drinks which would have cost way more than my wager for the night. At one point Scott & I move off for a while to try out the computerised versions of roulette (because the machines are now all linked to a computer system you can move money around between them very easily using receipts.) We're both bored quickly and try out some slots which are also dull so we're back at the poker within 20mins. Eventually we get bored and cash out with me getting3 of my original 5 dollar wager back. After grabbing a quick snack from the McDonalds upstairs we all head to our rooms to finish up packing ready for the drive to California tomorrow